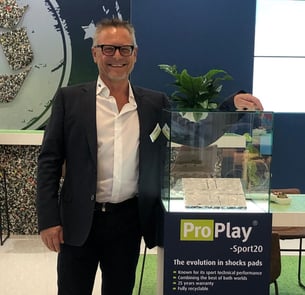 Export Manager Rob Moors is showing the renewed ProPlay-Sport20 at the FSB 2019 in Cologne.
Renewed product, known performance
Over the past few months, the renewed ProPlay-Sport20 has been tested by international testing institutes. Since the shock pad comes with similar or even better sport technical characteristics, system test efforts if desired can be kept to a minimum. This ensures a smooth industry transition from the original ProPlay-Sport20 to the renewed version. Jens Ulb continues; "Due to its look you can differ between the two ProPlay-Sport20 pads, but an installer or athlete will not experience any difference with our renewed shock and drainage pads.
The shift to the new version also means that Schmitz Foam Products will cease producing the ProPlay-MP. "The ProPlay-MP was mainly used for multi-sports courts. As the sports experience on multi-sports courts has also evolved over the years, it is our recommendation to also use the ProPlay-Sport20 for this type of surface. The pad delivers a superior performance and experience for these fields at a competitive price," says Ulb.
Schmitz Foam Products has already started producing the new ProPlay-Sport20. Jens Ulb is convinced that they will have sufficient stock from 2020 onwards. "With this evolution we combine the best of both worlds with which we are ready to secure the delivery of a robust shock and drainage pad to any future-proof artificial grass system."