Made from top-quality foam
Our ProPlay-MP12 is made of closed-celled cross-linked polyethylene foams (XPE) that were originally produced for a different purpose in various industries where quality and product performance is key. Schmitz Foam Products combines these foams to a landscaping pad that delivers a comfortable surface with sufficient drainage capabilities.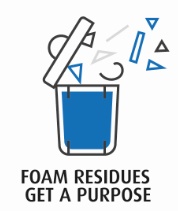 High durability
Our MP12 pad maintains its comfort for a period that exceeds the life-span of multiple artificial grass surfaces.
Sufficient drainage capabilities
The drainage capacity of our ProPlay-MP12 prevents pooling in the most occurring rain events.
Comfortable surface
To design an extra comfortable surface for your project, we recommend the addition of our MP12 pad. Create the perfect combination of durability, drainage and comfort.