The ProPlay D-version includes integrated drainage channels on the under side of the shock pad to allow increased water flow in the plane of the shock pad.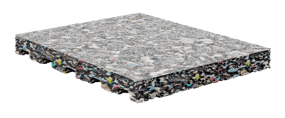 For installations where additional (horizontal) drainage is needed or desired, ProPlay-23D and ProPlay-20D is the cost effective solution.
This could include new build fields with an impermeable base or impermeable liner as part of the turf system, or a replacement field with an existing stone base that does not offer proper drainage capacity for the installation of the new turf.